Great News! We were juried into two exhibitions. In St. Paul MN the show is "With the Grain". The 15 artists in the show are focusing on wood, so I will be making a piece with a driftwood table. In Palm Springs CA the Artist's Council will feature my piece in an exhibition at the Palm Springs Art Museum - Palm Desert from Nov 7-22.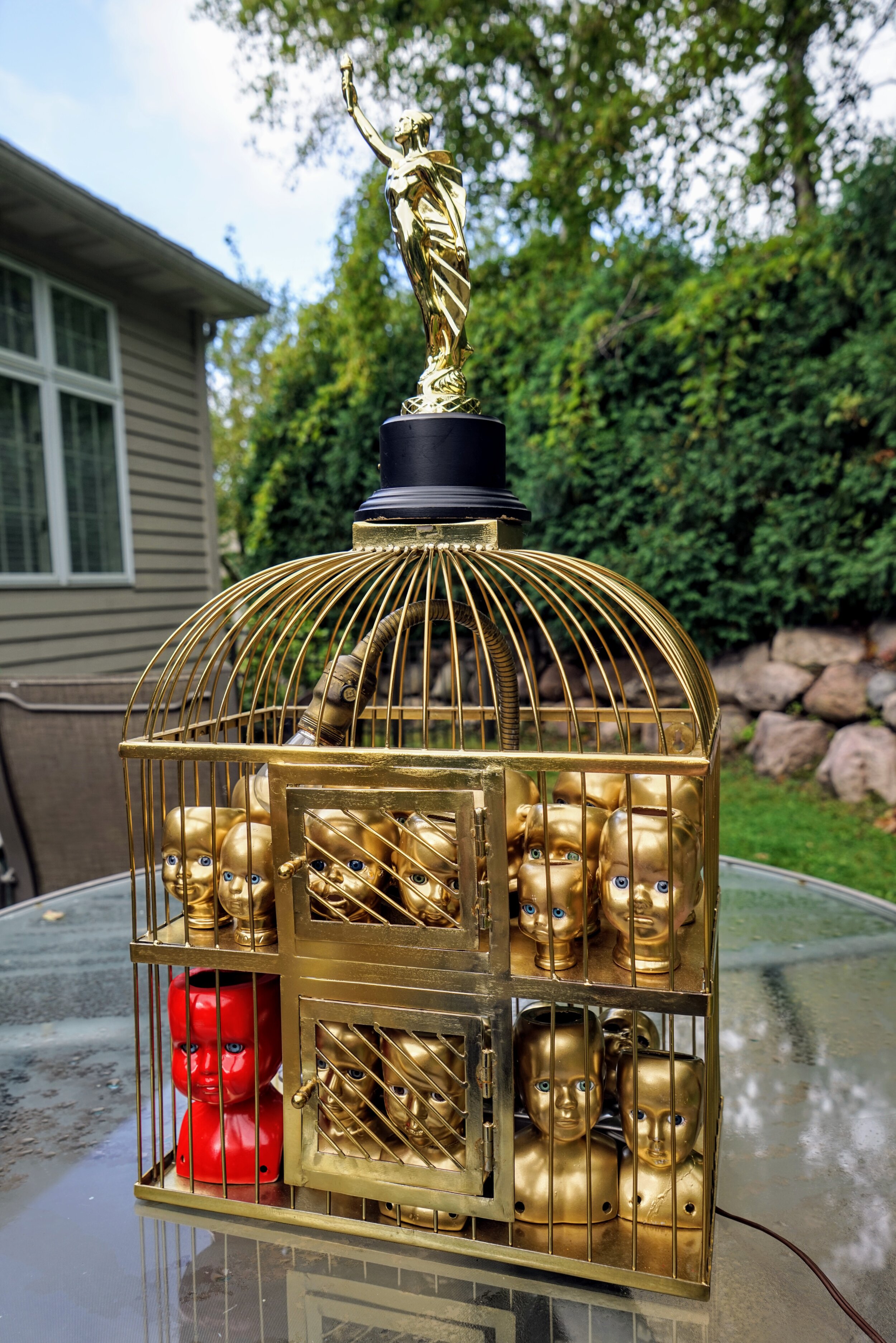 $63 Billion
U.S. Government data showed that refugees contributed $63 Billion more to our economy than they cost from 2004 to 2014. The Trump Administration suppressed release of this information. This piece depicts the caged children and adults on our borders, with Nike, the Goddess of Victory, atop and out of the reach of those who are caged.
Monogram Palm Springs
Richard Rauschenberg's Monogram (1955–59) is one of the most important Assemblages in art history. Rauschenberg found a stuffed goat in a secondhand store in NY and combined it with a tire and painting to form what he called a Combine. My I'm-not-worthy piece is a ceramic big horn sheep with a pool noodle, and is 'trans-species' with one cow horn.
How'd You Shoot Today?
18 new leather golf gloves make a statement about the frustrations of mastering the art of golf.
Derailed
From my "Tracks" Series, using discarded children's wooden train tracks
Sanka - Guaranteed No Nightmares!
Sanka was the first no-caffeine coffee and used the tagline: "Let's You Sleep!". This piece includes a light-up creep clown in a vintage Sanka can, an antique brass blowtorch, and a vintage (working) Italian espresso maker.
Killing Science
The Trump Administration has been canceling critical scientific research for almost three years, which is putting the future of our planet at even greater risk than we were facing before Trump.
The Big One (sold)
A bar that's a fishing boat. Powered by a 1923 Ole Evinrude outboard motor at the end of the bar, it appears to be chasing The Big One, a 50-inch fiberglass fish. The Big One will soon be installed at a Northern Minnesota cabin.
A popular Santa in Drag from the show at the Palm Springs Art Museum
Barbie Asked Ken to Put Some Big Rubber on Her Ride
Seeking Any Brain Activity From Trump Supporters
Orange Goes Blue
Barbie's in Pussy Hats celebrating conservative Orange County going Blue in the 2018 election.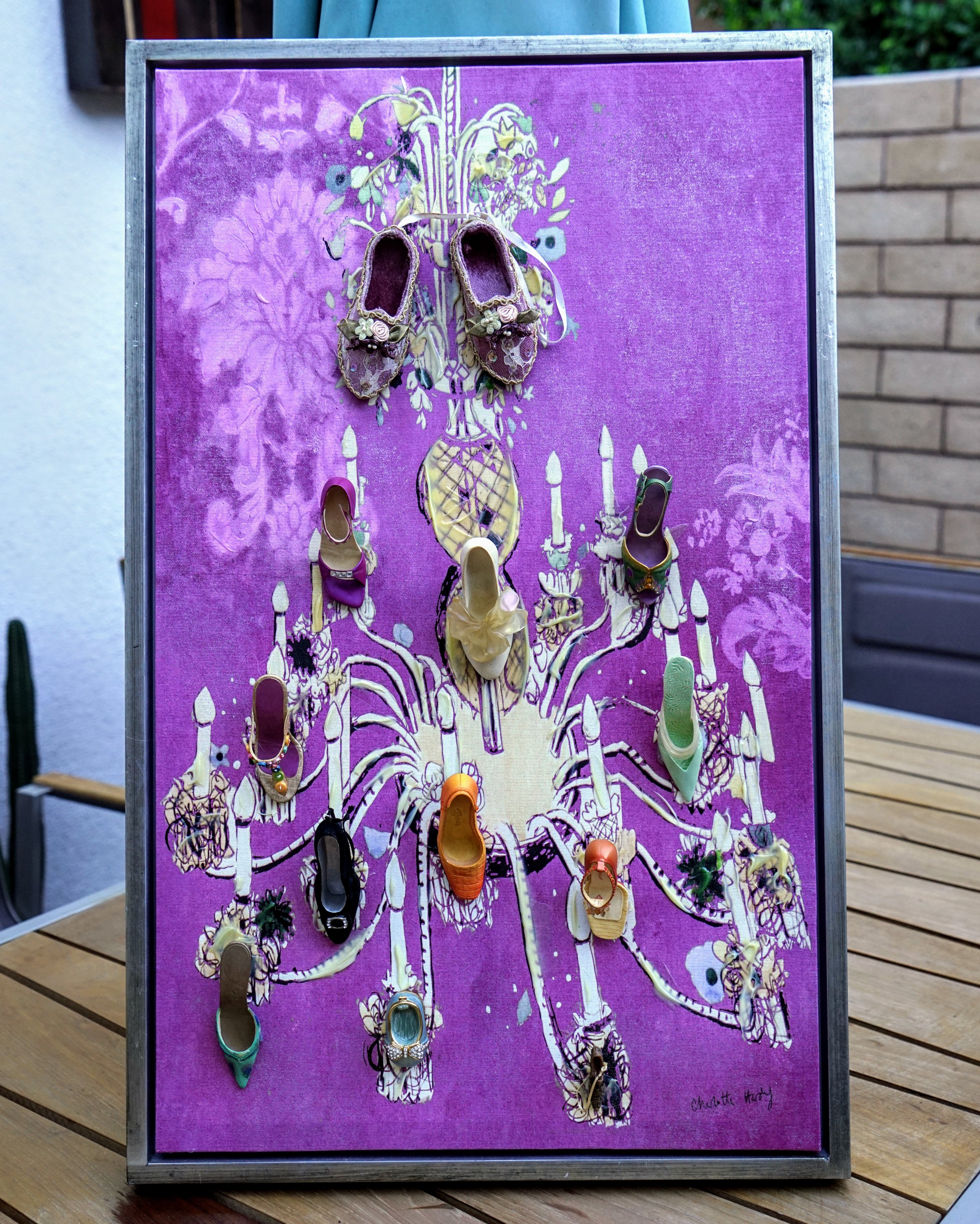 Trump's Circus of Dead Clowns
Yes, he's put a bullet hole in more cabinet members than you can count on two hands.
Barbie's Blue Wave Martini Party, Nov 7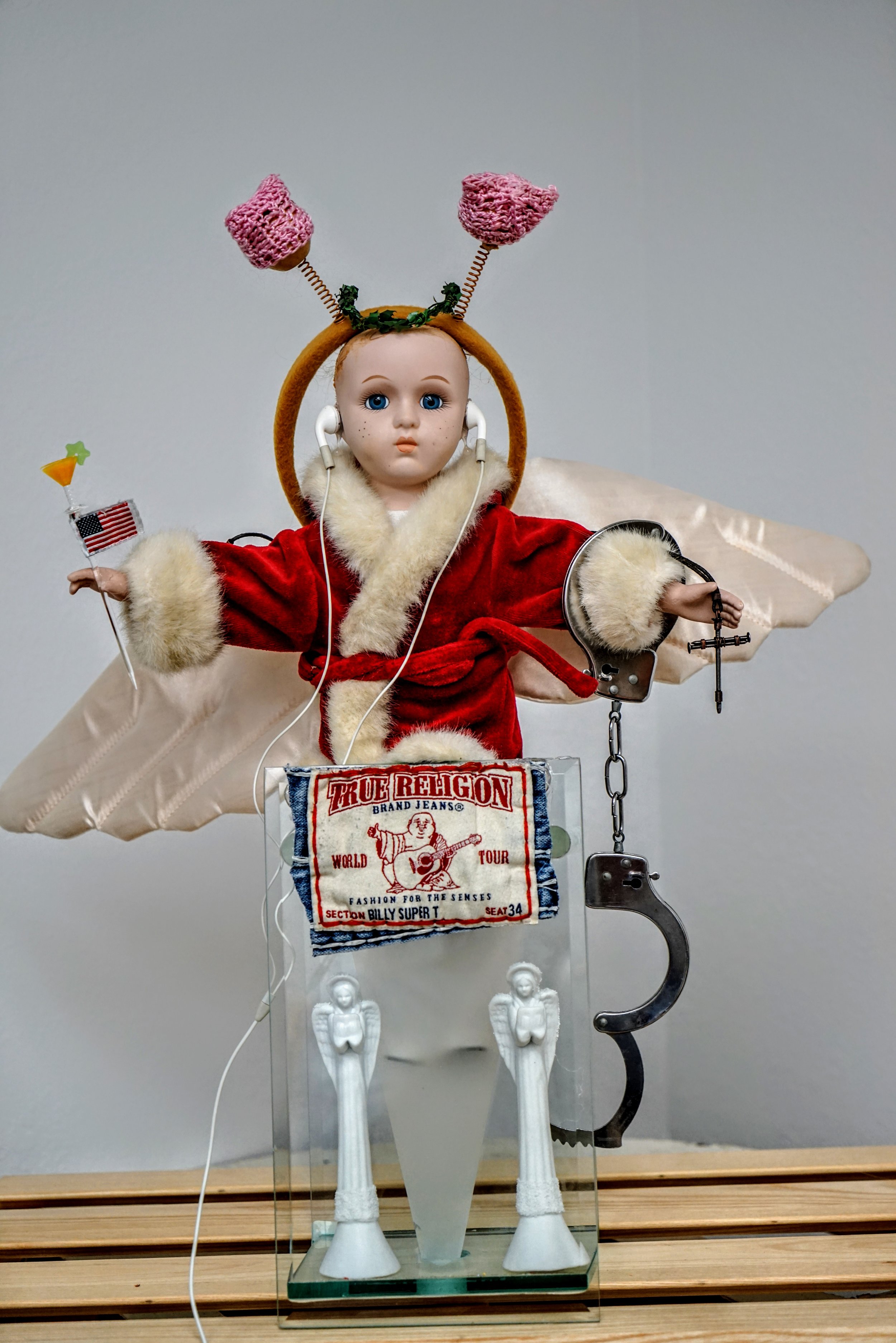 True Religion, An Assemblage
Pearl
She is atop an actual Sawtooth Shark's bill.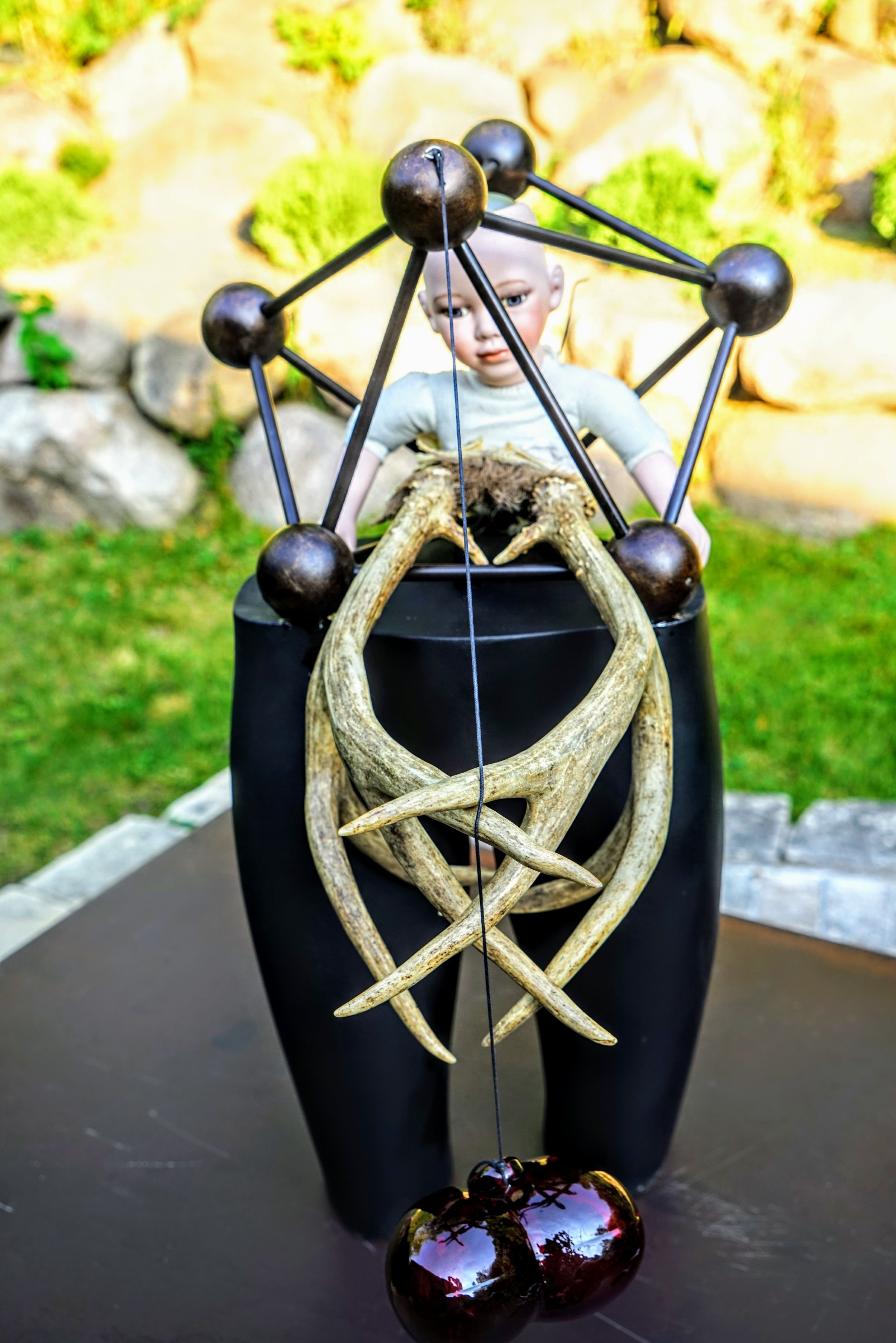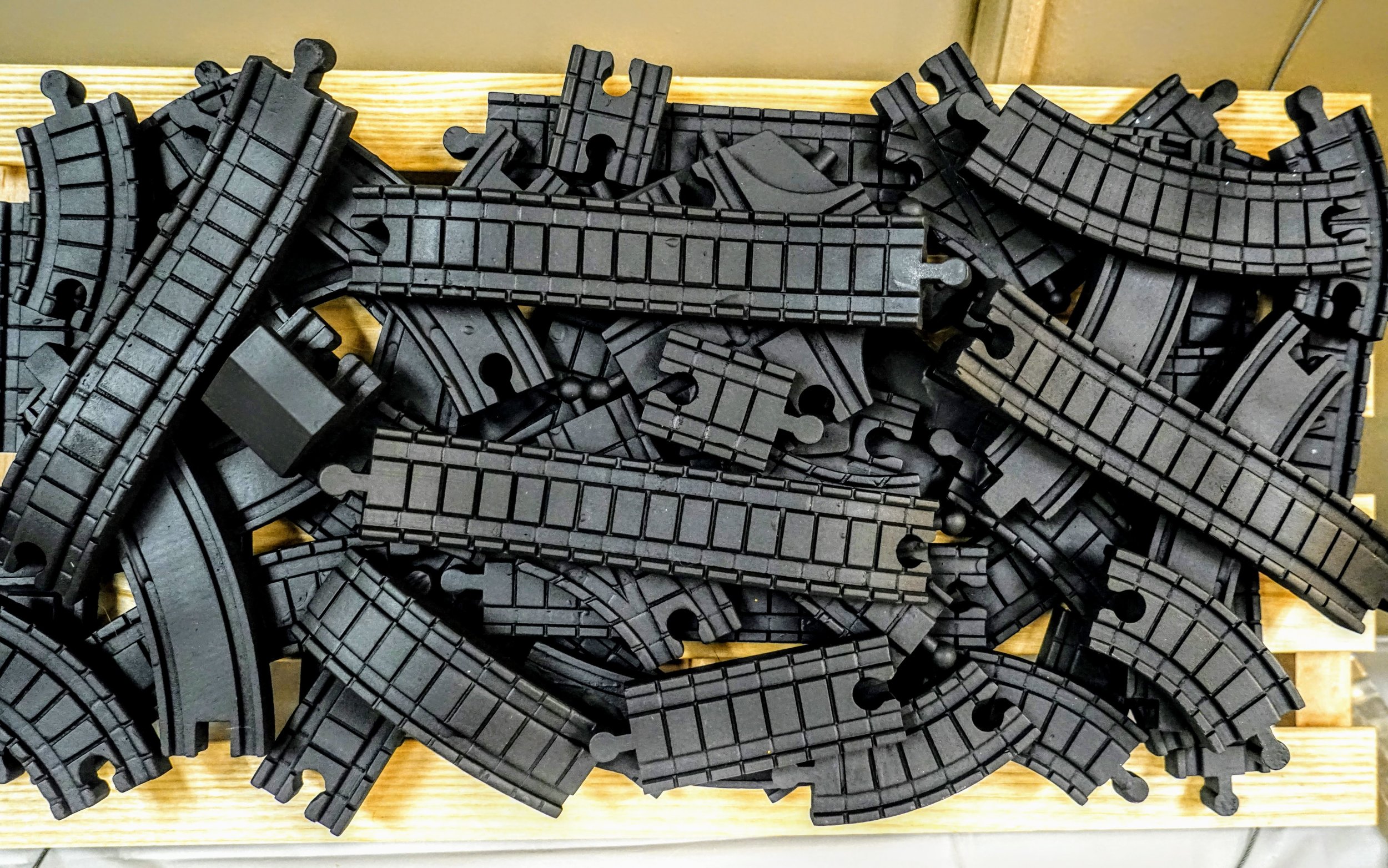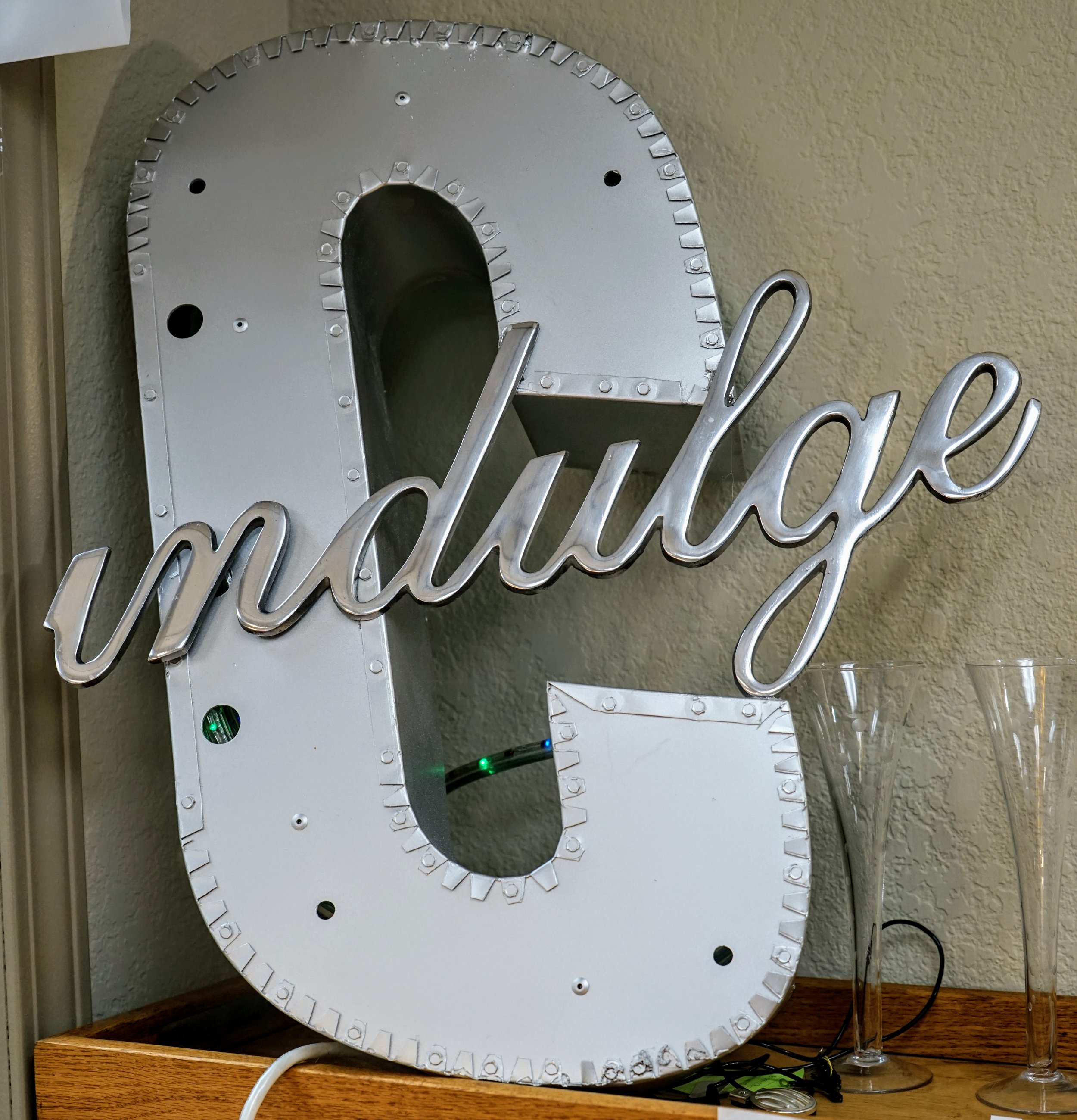 Barbie's Synchronized Dive Team (a lamp)
Steampunk Robot Bartender
Homage to Jasper John's Flag Pieces
Barbie's Synchronized Swim Team
Measuring Brain Activity in Trump Supporters
Barbie's War on Christmas
Barbie Steps In for Santa
Me at the St. Paul Art Crawl
My Assemblage in a customer's home in Chicago
My Assemblage, a homage to Frank Lloyd Wright, in a customer's home in California
Homage to Lousie Nevelson
Modernism Assemblages from last season in Palm Springs
Among the Modernism assemblages at our show was this homage to Ray and Charles Eames pioneering work with molded plywood. We mounted this chair sideways to accentuate the curved shape.
Flip, from our Stax Bars Collection
Side tables are the most common mid-century furniture pieces we find at thrift stores for Thrift Bars. Here are two beautiful solid oak pieces that were $3.50 each. We flipped one upside down on the other and added a glass top for a bar with two drawers and shelves. A hidden rear hinge connects the two, meaning you can flip the top one down to make a nice small buffet table.
Tequila Nightmares
A Cocktail Arts Assemblage imagining your fitful night of nightmares when you've had too many shots of TA-KILL-YA.
Drift (sold)
Videographer Albert Maruggi dropped by the studio to see the new Cocktail Arts assemblages. Here is his snapshot of the amazing Drift Cocktail Bar. It is an all driftwood thrift store find. I've mounted it to a steel base to boost it to bar height. It also now is lit from inside to show off its 'bones'. It will be installed at HYGGA Lowertown, the new St. Paul MN bar and restaurant. Kim Garretson
Cowboy Cocktails
Signature Cocktails are a feature of many home parties today. In this case a vintage rolling metal wagon train wagon holds the stuff for making the Old Fashioned. High West Rye Whiskey, Angostura Bitters, sugar cubes, and buckhorn barware. Use it as a tabletop bar station.
Replace these with the items for your own signature cocktails, and keep the Western theme if desired.
Sew What
A sewing cabinet from the 50's with a rich walnut case and iconic mid-century legs. The drop leaf forms a bar table, and the cutout for the sewing machine now holds an ice bucket. On the right side, a slide out shelf for the sewing machine now slides out the liquor bottles. Two drawers on the left hold glassware and barware.
Purple
Our homage to Prince. The large metal wine rack base has a shape that hints at Prince's glyph. The bar top is a large ceiling lighting fixture flipped over so the purple neon bathes the base.
If Caesar had invented cocktails rather than a salad
A wall hanging Thrift Bars assemblage. An authentic circa 1600 engraving from Antwerp was 25 cents at a thrift store, and has a $140 price tag from the Palm Springs printseller. This was one of 265 prints donated to the store. We imagine the printseller died and his heirs dumped the items.
Of course, Julius did not invent the salad, but if he had invented cocktails, perhaps the beheadings would have been tempered by the warm glow of sharing cocktails with your enemies.
The engraving was not altered in this assemblage. If you'd like it unadorned, just remove it from the frame and reframe it.
Pieces & Parts:
Under $8
We don't want your crap
Recent headlines:
Stuff it: Millennials nix their parents' treasures - The Washington Post
Sorry, Nobody Wants Your Parents' Stuff - Forbes
Boomers often rebuffed when passing down heirlooms - USA Today
Another Thrift Bars assemblage. Thrift Stores sell what obviously are whole-family collections of souvenir shot glass and demitasse spoons in large plastic bags for as little as three dollars. Sad when you think about it. But a bonus for our assemblage to make the point that we spend ⅔ of our lives acquiring crap, and ⅓ getting rid of it. The average American home contains 300,000 items.
Op-Bar
The early 70's were the Op-Art heyday. This 1973 mirrored op art piece for the Greg Copeland Studios forms a great mirrored bar top. The piece is signed by Romanian artist Ruta Dremanjis, who also was the art director for the famous mid-century furniture designer Milo Baughmann. The multi-mirror piece in the base is from Crate & Barrel.
Eyes On You
A Thrift Bar in the works. Dozens of vintage camera lenses will be topped with glass, and the bar will have a pedestal base featuring vintage camera flashes.
Rings Around
A beautiful granite bar top sits atop columns of steel. A dramatic Arabic globe with moving rings towers above the bar.
Golf Nut
This Thrift Bar just landed in its new home, a real Golf Nut. It's a beautiful hardwood billiards cabinet, now raised to bar height with IKEA table legs. Vintage golf drivers replace billiard cues, and the wall sign hanging above the bar is an assemblage created from golf tournament award. The cabinet holds plenty of booze and glassware.
Chip Scarborough
Artist Chip Scarborough tossed a coin in 1965. Heads, the Colorado School of Mines. Tails, Art School. Today, he works with small glass pieces (see recent eBay listings for some of these pieces). He also creates large Mixed Media pieces. These metal sculptures probably date to the 90's.
Birdcase
A large beautiful new acrylic birdcage on a rolling hardwood base with shelves for storing booze and glassware. This brand new item was $20 at Goodwill, while similar ones cost up to $700. With backlighting, and perhaps a mirror, your liquor bottle display can have the look of the backbar at your favorite watering hole.
The Flip
A fun furniture hack. These two solid-oak Mid-Century night tables were $3.50 each at Goodwill. One is flipped to rest atop the other, forming a tall Thrift Bar with a glass top. A piano hinge connects the two tables so you can lower the top one, with the two of them back-to-back, forming a buffet bar table.
Tango
This dancing couple, signed by artist Jon Gilmore, gets a glass top for the bar, and a stainless steel table under it.
Horsin' Around
Sometimes Thrift Store finds come with stories. In this case, at Salvation Army, the beautiful box and its inserts had a note taped to the bottom. It said the family had worked together to handcraft a Tack Trunk for their plans to get a horse. But alas, they never got the horse, and they hoped someone would enjoy the trunk. The cost was $9.
At Etsy, similar trunks sell for around $1,000.
I turned the trunk on its side atop a sturdy kid's play table with MCM like legs. The lid and inserts are now atop the trunk, and shelves and lighting inside the trunk will highlight the liquour bottles, wine and glassware.
The Big Bowl
A beautiful large metal bowl sits atop an aquarium base. A circular glass tray inside the bowl forms the bar top.
Two Shots of Chartreuse
Some assemblages are created with a story in mind. In this case, "Aunt Ethel told everyone she was a teetotaler, but her secret, held secure in her memories, was that she always slipped two shots of Chartreuse into her morning coffee.
We should have picked up the clues. All her glassware was chartreuse colored, and every morning she smelled like peppermint.
In later life, she admitted to her sin of drink to a favorite grandchild, but was quick to justify it with the story of the Carthusian Monks who first distilled the drink in 1737 from a 1605 recipe calling for 130 herbs, plants and flowers. And Ethel was a lifelong devout Catholic."
Pieces & Parts:
Under $45
About the Assemblage: The rolling base was a base for medical equipment and includes a drawer for barware. The new mirrored top is from Pier One with a $150 retail price. The glassware and metal chest are from Goodwill, and the hands were mannequin parts found curbside.
1940's Italian Hollywood Regency Design Bar Cart
This beautiful vintage metal bar cart was $16 at Goodwill. You can find similar ones for sale at sites like Charish and 1st Dibs for $1,400 to $2,300.
Weaponized
It's not surprising some barware, especially corkscrews, are designed to look like people. This wall collage goes one further and turns fold-up corkscrews into canine companions for the warriors with their glass swizzle stick weapons.
Lion's Club
A Thrift Bar Assemblage that imagines interactions and conversations at any neighborhood Lion's Club bar. (The circular bar within can also be functionally used as a bar, if desired).
President Dave bores those bellied up to the bar, pointing to the 10 new pins on his vest he acquired at the annual meeting in New Orleans. He has a story for each, including about the southern belle pictured on the Mississippi pin.
That triggers Frank to once again roll eyes with his description of his high school girlfriend's legs when she emerged from their skinny dipping in the lake.
Pieces & Parts:
About $28
Stephen White Art (1978)
Furniture Hacking includes turning some objects into new uses. In this case, wall art becomes a bar tabletop. Because bars get lighter use than dining tables, the glass and poly covers of these wall art pieces are strong enough for bar table use.